UFQ&A - Episode #4

UFQ&A is our brand new series of video podcasts with a rotating lineup of band members interviewing each other.

There are big questions, little ones, stories from the road and of course music. Episode #4 sees Dan interviewing Joe.

Got a question for a future UFQ&A? Email tom@theufq.com
WATERBOUND
Waterbound
A lockdown collaboration with Birmingham UK producer/performer Josh Wunderlich, Waterbound remixes UFQ's revved up spin on the traditional song Boat Up The River and reimagines it as a blistering, philosophical, funk-edged rap track.
UFQ ft. Joss Stone
Having first crossed paths at Green Man Festival, the mighty-voiced Joss has become a friend of the band over the years. 
Joss invited Joe & Paloma to play on her  2015 track The Answer and UFQ to open her 2016 London show. 

We were delighted when, catching up over lockdown, she agreed to provide guest vocals for this video with us.
UFQx2
Summer 2019 saw UFQ take an 8-piece  lineup on a tour of festivals in celebration of our 10th anniversary. This track evolved into a monster(!) and features in an upcoming UFQx2 live gig film.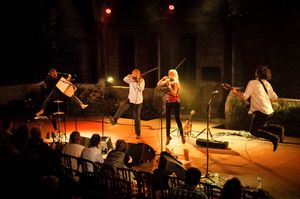 Join our Community of Supporters
New exclusive music, videos and more every month
New CDs, streams and downloads straight to you, months ahead of anyone else
Choose your colour of T shirt from a choice of fifty, posted to you
The UFQ Vault - our entire back catalogue + unreleased rarities
A library of tutorials and behind the scenes videos
The UFQ Multitrack Player on demand
Studio audio stem files to keep
A great way to support the band
Become a patron of UFQ! Subscriptions start at the price of a pint - just £3. Click the button to find out more about what's on offer.